Facebook Changes Its Name to META
Facebook, the social network, will no longer define the future of Facebook, the company that will now be known
as Meta
. Facebook Inc. is
changing its name
in order to distinguish its beleaguered social network, which has an increasingly poor reputation around the globe, from the company that is pinning
its future
on the promise of a "metaverse."
"Our brand is so tightly linked to one product that it can't possibly represent everything that we're doing today, let alone in the future," Zuckerberg said. "From now on, we're going to be metaverse-first, not Facebook first."
Facebook CEO Mark Zuckerberg announced it today Thursday 28th of October 2021 at the company's Connect event "We are a company that builds technology to connect," Zuckerberg said. "Together, we can finally put people at the centre of our technology. And together, we can unlock a massively bigger creator economy."
"To reflect who we are and what we hope to build," he added.
Zuckerberg wrote in a blog post
on Thursday that the company's corporate structure would not be changing, but how it reports financial results will. "Starting with our results for the fourth quarter of 2021, we plan to report on two operating segments: Family of Apps and Reality Labs" he explained. "We also intend to start trading under the new stock ticker we have reserved, MVRS, on December 1. Today's announcement does not affect how we use or share data."
Zuckerberg still has yet to clearly define exactly what is a "metaverse company" means for its main platform and users, but augmented and virtual reality is central to the vision. The company has already shown off an early version of one project, called Horizon Workrooms, that allows people to
conduct meetings
in VR. The company
also previewed
new "Horizon Home" and "Horizon Venues" experiences. And, earlier this month, the company announced plans
to hire
10,000 new workers in Europe in order to build out its metaverse.
Facebook has invested $10bn in its metaverse project in 2021 – double what it spends on safety and security on the platform. In recent earnings reports, the company announced its virtual reality segment had grown so substantially it would now report its revenue separately, dividing its products into two categories.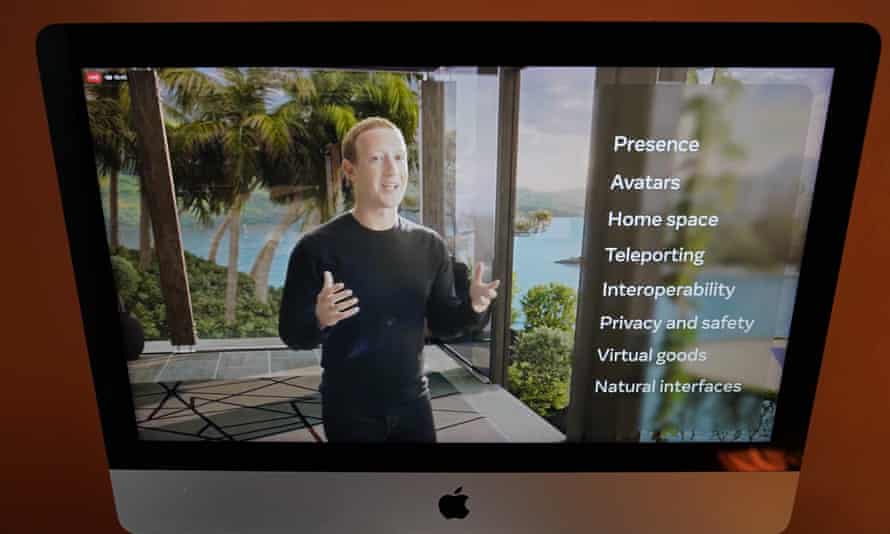 Those categories include a "family of apps" including Facebook, Instagram, Messenger and WhatsApp, and the "reality labs" products including AR and VR as well as any related hardware.
In a presentation from his home, Zuckerberg outlined his vision of the metaverse as a digital world in which users will feel they are with one another and have a "sense of presence" despite being far apart. The platform would allow users to customize their avatars and digital spaces, decorating a digital office with pictures, videos and even books.
"When I send my parents a video with my kids, they're going to feel like they're right at the moment with us not peering through a little window," he said.
The presentation imagined users inviting friends over virtually, two people attending a concert together despite being across the world from one another, and colleagues making work presentations remotely.
Watch the video he made to announce it:
"We believe the metaverse will be the successor to the mobile internet., We'll be able to feel present – like we're right there with people no matter how far apart we actually are," he said. "We'll be able to express ourselves in new joyful, completely immersive ways.
"The best way to understand the metaverse is to experience it yourself," Zuckerberg added, though adding "it doesn't fully exist yet".
Still, Zuckerberg said, Facebook rolled out two of its metaverse projects in beta last year: Horizon World, which allows users to invite friends over into their digital world, and
Horizon Workrooms
, which does the same in professional settings. He also said Facebook plans to further explore NFTs and crypto to help facilitate media that can be represented digitally and is working on gaming applications.
Former Computer Engineer, Tech, EdTech and eCommerce Entrepreneur, Keynote Speaker on Digital Marketing and Entrepreneurship, Social Media Strategist, eCommerce Business Mentor, Trainer, Writer, Blogger, Mother, Daughter, Dreamer.

Follow her on:
Twitter:@MiliPonce
Instagram: @MiliPonceOfficial
Facebook: /MiliPonceOliver
Pinterest: /MiliPonce

LinkedIn: /in/MiliPonce
Clubhouse: @MiliPonce
Facebook Changes Its Name to META
Reviewed by
Mili Ponce
on
Thursday, October 28, 2021
Rating: