WeChat deletes students LGBT+ accounts in China and #LGBT+ homophobia in Europe
Source: NBCNews
Updated 11/07/2021
Despite major changes in laws and norms surrounding the issue of
same-sex marriage
and the rights of
LGBT+ people around the world
, public opinion on the acceptance of homosexuality in society remains sharply divided by country, region and economic development.
Following the
Pew Research Center
, a nonpartisan fact tank that informs the public about the issues, attitudes and trends shaping the world.
On a regional basis, acceptance of homosexuality is highest in Western Europe and North America. Central and Eastern Europeans, however, are more divided on the subject, with a median of 46% who say homosexuality should be accepted and 44% saying it should not be.
But in sub-Saharan Africa, the Middle East, Russia and Ukraine, few say that society should accept homosexuality; only in South Africa (54%) and Israel (47%) do more than a quarter holds this view.
People in the Asia-Pacific region show little consensus on the subject. More than three-quarters of those surveyed in Australia (81%) say homosexuality should be accepted, as do 73% of Filipinos. Meanwhile, only 9% in Indonesia agree.
In the three Latin American countries surveyed, strong majorities say they accept homosexuality in society.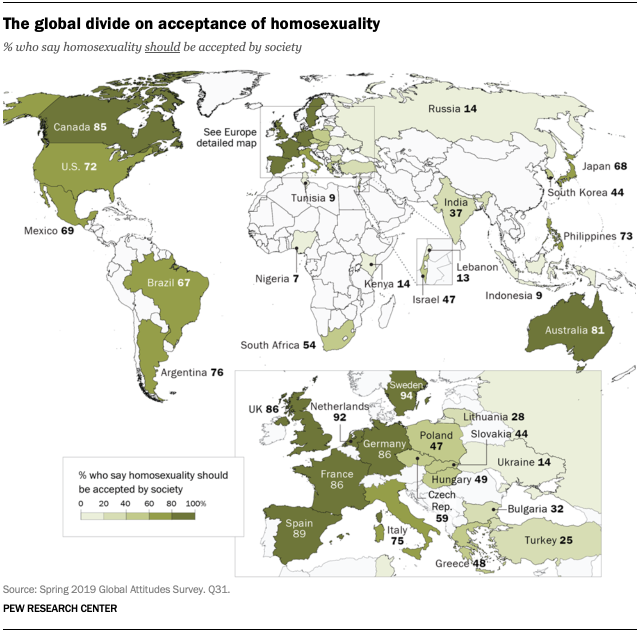 Some interesting statistics showed that:
What is the reality when we talk about Sexual Orientation Laws in the World?
After this general overview of LGBT+ acceptance and laws in countries and societies around the world, let's have a look at what happened yesterday in China.
China decriminalized homosexuality in
1997
and removed it from its official list of mental disorders in
2001
. Same-sex marriage is still illegal in the country, and people who identify as LGBT+
continue to face discrimination
in both personal and professional spheres.
Yesterday, WeChat deleted more than a dozen LGBT+ accounts run by university students, sparking fears that safe spaces for China's sexual and gender minorities are going to shrink even further.
"After receiving relevant complaints, all content has been blocked and the account has been put out of service," the notice read, citing violation of a government regulation on the management of online public accounts.
Some of the deleted LGBT+ groups were registered as student clubs at their universities, while others operated unofficially
. Most of them had existed for years, offering students a sense of community and much-needed support, with
posts
ranging from LGBT-themed book and movie recommendations to resources for psychological assistance.
A
list of the chat groups
that were taken offline on Wednesday
was also posted on Weibo.
In this list were college LGBT+ groups based in schools across the Chinese mainland, including communities at elite colleges like Tsinghua University in Beijing, and Fudan University in Shanghai.
The blocking of WeChat accounts triggered outrage on Chinese social media.
"The era is regressing. China wasn't like this 10 years ago. Gradually we're losing all our freedoms," said a
comment
on Weibo.
But the move has been welcomed by online nationalists, some of whom claimed, without evidence, that these LGBT+ groups have been infiltrated by "foreign forces."
"I support the blocking of the accounts...why should we keep these public accounts run by anti-China forces in our higher education institutions? Are we waiting for them to brainwash university students who have yet to form their values?" said one comment on
Weibo
.
Reuters
spoke to another manager of a deleted chat group, who also declined to be identified.
"They censored us without any warning. All of us have been wiped out," the chat group manager told Reuters.
"Feeling really depressed and powerless after what happened to the LGBT+ accounts. What's going to happen next? Are they going to fine people for being single? Are they going to make women wear face veils when they go outside? Are we sure we aren't regressing as a society?" said one Weibo poster with the ID "a-nyan" in a
post
on Wednesday.
Looking into what is happening in Europe at the moment, we found all these events happening in the last few days.
An LGBT+ activist gestures during a protest over the death of Samuel Luiz, who was attacked outside a club in A Coruna, in Barcelona, Spain

#lgbt #lgbtq
Alarming images from #Georgia! Extremist hooligans threaten today's #LGBT #pride in Tblisi. @vvd calls on the authorities to protect participants and journalists! European leaders need to put pressure on Georgia to immediately safeguard freedom and equal rights. @TbilisiPride🏳️‍🌈 pic.twitter.com/lqKbGPKn9F
Now in #Budapest: activists erect a 10-meter tall rainbow heart at #Hungary's parliament in protest of a law they describe as an attack on the #LGBT community. The law takes effect today. pic.twitter.com/3cbWOjpJVU
BBC.com 11/07/2021
Police in Georgia has launched a criminal investigation into the death of a cameraman who was attacked while covering an anti-Pride event.
Lekso Lashkarava suffered severe facial injuries during the attack in Tbilisi on 5 July but was discharged from the hospital. He was found dead on Sunday.
The Georgian interior ministry said four people have been arrested.
Pride was called off on Monday after violent groups targeted the offices of LGBT campaigners.
While discrimination against sexual orientation is illegal in Georgia, the country - which lies between Eastern Europe and Western Asia - remains very conservative.
This is the reality and these issues are not just happening in China, as we see on the map above, LGBT+ still have a long way to go fighting for what they believe and support.
Former Computer Engineer, Tech, EdTech and eCommerce Entrepreneur, Keynote Speaker on Digital Marketing and Entrepreneurship, Social Media Strategist, eCommerce Business Mentor, Trainer, Writer, Blogger, Mother, Daughter, Dreamer.

Follow her on:
Twitter:@MiliPonce
Instagram: @MiliPonceOfficial
Facebook: /MiliPonceOliver
Pinterest: /MiliPonce

LinkedIn: /in/MiliPonce
Clubhouse: @MiliPonce
WeChat deletes students LGBT+ accounts in China and #LGBT+ homophobia in Europe
Reviewed by
Mili Ponce
on
Thursday, July 08, 2021
Rating: