Social Media Tip: How to use Twitter for your business
With over 200 million active users, Twitter dominates in the social media world. The microblogging site allows users to connect with family, friends, enemies, businesses, celebrities and even fictional characters. It is a social platform that revolves around interaction, where anyone can follow anyone. It's a place for people to share new ideas and learn at the same time. For businesses, it is a gold mine of opportunity. On Twitter, businesses are able to interact directly with their customers, competitors, experts in their trade and business partners. They can present them with new opportunities, products and services, and vital information. From small to large companies, Twitter offers the opportunity to grow as a business. Can Twitter help your business? The answer is a resounding yes. Allow us to give you a birds-eye view on how...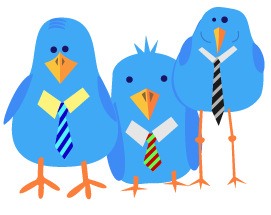 According to
Twitter
, people are signing in to Twitter everyday to create, discover and share ideas with others. Now, they have noted that people are using the platform to reach out to businesses, finding great value in the connections that they are making. This provides you with a great opportunity to provide your customers with what is most meaningful to them, all in real time. Make sure you determine your
marketing strategy
, match your brand and then build up your target audience.
Match your brand
When creating your Twitter profile, don't just wing it. Your profile is the basis of your Twitter presence, so it's crucial to keep your target audience in mind. You are generating your online presence to interact with them, so it's all about maintaining this and keeping your voice and brand consistent:
decide your purpose before you start, and stick to it.
make sure your account name is consistent with your brand, this makes you more recognisable.
choose your voice - do you want to be funny/professional/sarcastic/informal?
choose suitable images; your profile and background picture should fit your brand.
fill out your whole profile and don't leave any areas blank. Including your website or other social media channels shows that you are accessible and that you have a stable online presence.
add a personal touch to your Twitter bio, it's a great opportunity to show the human side to your business. Make sure your followers know what makes you great, and what benefits you can offer them.
include photos of your tweeters - sometimes it's nice to know who you're talking to, and it adds a personal touch to have some photographs of the employees managing the company twitter account.
S
ource: business.twitter.com
Following the trend this year, you should make sure your profile is visual. Be sure to include lots of rich content in your profile. Anything from images, photos, infographics and videos will boost your presence and drive traffic to your site:
make sure the visible photos in your toolbar are engaging, so that users are drawn to looking through more of them.
add videos, bearing in mind that Twitter has now included Vine, which enables you to add short 6-second videos that play on a constant loop.
If you have successfully managed to build up a large, consistent Twitter presence, then you need to make sure to link it with your other social platforms:
make sure the account is on your website/blog.
embed popular tweets on your website/blog, or include a timeline of messages.
be sure to make it easy for people to share your content on twitter, by including a tweet button.
Build up an audience
On Twitter, it's just as much about who you follow, as who follows you. Remember the platform is there to learn and to share, and building good connections with consumers is as important as those with peers in the industry. You don't want an overload of contacts, so take your time and choose who you want to follow carefully. This will make it easier to manage your account later on, once it has grown in size:
bear in mind that Twitter is strict about overboard use. By following too many people at once, you are engaging in 'aggressive following', and Twitter can suspend your account if they feel there is something suspicious going on.
you are allowed to follow up to 2,000 people, and after that you can follow more people gradually and proportionally.
try and follow people linked to your business: old/new customers; competitors (be it openly or secretly); businesses linked with your own; experts in the industry or influencers in the industry
don't forget that Twitter has a 'find friends' feature, allowing you to search for contacts from your address books.
use a tool like TweetAdder or Tweepi to help you find who to follow, or target who you want to follow you.
After you have a good foundation of people to follow, you can focus a bit more on who you want to follow you. The best way to engage more people in your brand is to talk and interact on the platform. That way you can build up brand awareness and widen your social reach:
send out tweets about your business, products or current offers:

target your audience and promote your business.
show how your products/services benefit your customers.
focus on driving traffic to your website and building your user base.
reply to customer mentions or tweets - this is online customer service, and is a great way to give your company a human side.
mention business partners or peers - this is virtual back-scratching, and will hopefully boost your own business through boosting theirs.
mention some hand-picked customers - make your loyal customers feel important, this will help your image and give you a good online reputation.
don't forget that you can Direct Message (DM) - this is great for more one-to-one conversations.
don't be shy! - in the world of Twitter, it's totally fine to ask your followers to retweet your tweets.
as your profile grows, you may want to consider organising your followers in conversation lists. This will make it easier to manage the information you are receiving on the account, and organises your contacts into separate twitter timelines.
use hashtags
Hashtags are
taking over the media world
, and they need to be an essential part of your Twitter presence. They are used to categorise tweets as a search mechanism and are a great marketing tool. They also show you trending topics, and can be found in the Trends sidebar. You can use them to
promote your business
and follow conversations within your industry.
make sure your hashtags are relevant, and try to tap into current traffic than generate a new trend from scratch.
don't overdo it; it's annoying to read a post inundated with hashtags, and could put some people off.
keep it simple; if a hashtag is too complicated then it won't be easy to search, making it of no use to you.
if you're creating your own hashtag, then try and adapt it to your voice. Funny hashtags, for example, can go viral, and boost your brand.
consult hashtags.org for helpful information regarding all things hashtag.
Given the rise in the number of businesses on Twitter, the networking site has recently introduced a new feature that enables you analyse your presence online.
Twitter Analytics
is a handy tool for assessing what's hot and what's not on your Twitter account. The dashboard lets you see what your best days are, what's your highest rated content and the demographics of the people you interact with are.
Be careful though, and when it comes to communicating on Twitter, don't try and get involved in too much too soon. This way, it becomes hard to maintain your involvement on the platform, and you risk being inconsistent. The most important thing is to tweet regularly, and make sure your voice is heard.
Social Media Tip: How to use Twitter for your business
Reviewed by
Anonymous
on
Friday, February 21, 2014
Rating: